The Research Rainmaker
Showcasing the top research news from around UTHSC
Ask the Expert
Q
Where should I go for help recruiting subjects for a clinical trial?
A
Most clinical investigators begin by reviewing the patient population in their practice group and other patients in the hospital database where they practice to identify potentially suitable subjects.  In addition, both the Office of Clinical Research and the TN-CTSI can help you. The Office of Clinical Research can provide PIs with research coordinator/s who can…
... read more
News Stories
New CORNET Milestone Reached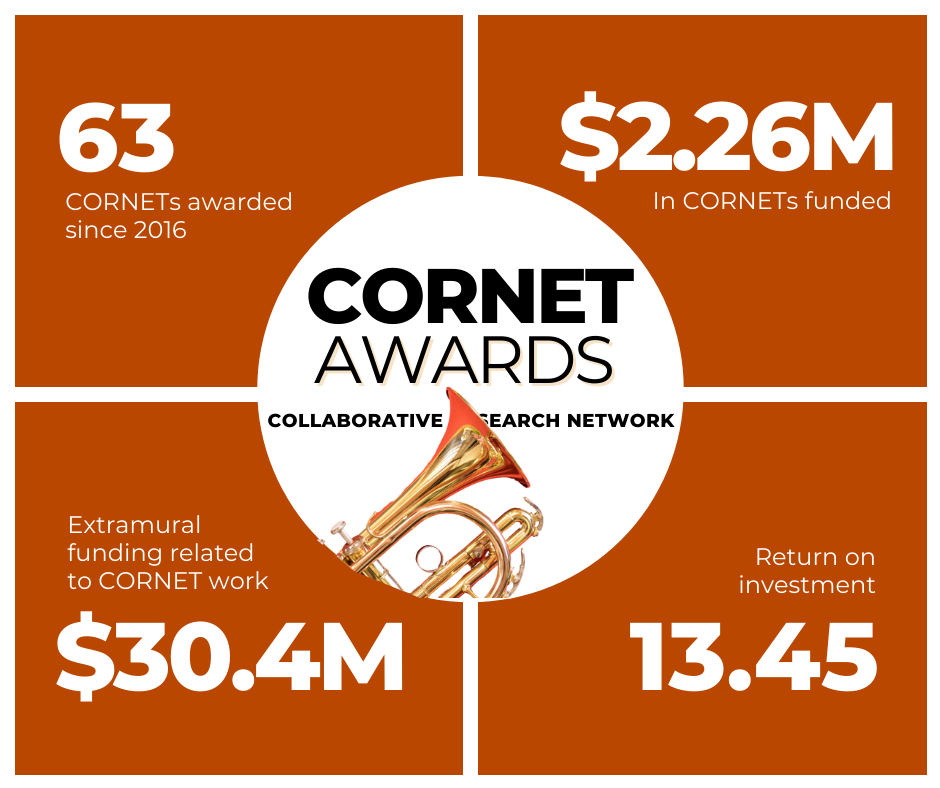 The Office of Research is celebrating yet another CORNET hit, with a recent $1.15 million NIH award to Wei Li, PhD, UTHSC Distinguished Professor and director of the College of Pharmacy Drug Discovery Center, and Jianxiong Jiang, PhD, associate professor in Pharmaceutical Sciences and Neurobiology at UTHSC.
The two are principal investigators on a project titled "Targeting TRPC3 Channels for Epileptic Seizures." Julio Cordero-Morales, PhD, associate professor in the Department of Physiology, is a co-investigator on the study, which is focused on developing a potential new drug target to treat epileptic seizures. The team has previously patented a selective TRPC3 inhibitor as a new druggable target for anti-seizure therapy. Their goal is to develop a lead TRPC3 inhibitor that is stable and safe, with favorable pharmacodynamic and pharmacokinetic properties. They will test its effectiveness in suppressing acute seizures, spontaneous recurrent seizures, and/or improving cognitive outcomes.
The grant is a significant milestone for the CORNET program, as it puts the total external dollars generated from CORNET-funded work over the $30 million mark.
The CORNETs (an acronym for Collaborative Research Network) were created by Dr. Steven Goodman in 2016 to give collaborative research teams the initial funding they need to collect data for larger studies. Dr. Li was a 2016 recipient of a CORNET award for a project titled "Selective Targeting of TRPC3 Ion Channel for Alzheimer's Disease Therapy", a collaborative study with Catherine Kaczorowski, PhD, former UTHSC assistant professor in the Department of Anatomy and Neurobiology, and Kristen O'Connell, PhD, former UTHSC assistant professor in the Department of Physiology. Findings from that initial study were leveraged to develop this latest project, exemplifying the CORNET's role in attracting large, external awards – and growing the bottom-line in UTHSC grants and contracts.
New Dates Announced For Global Scientific Conference Recruited to Memphis by UTHSC, TennIRM
The International Experimental Biology and Medicine Conference (IEBMC), a major scientific conference being jointly hosted by University of Tennessee Health Science Center (UTHSC) and the Tennessee Institute of Regenerative Medicine (TennIRM), has been rescheduled with an updated speaker lineup. Originally slated for October 8-10, 2021, the conference is now set to take place April 29-May 1, 2022 at the Central Station Hotel in downtown Memphis.
The decision to reschedule was made out of an abundance of caution and concern for the health and well-being of conference participants and attendees. The annual event regularly attracts 250-300 attendees. As recently as early September, the virulence of the Delta variant of SARS-CoV-2 in Shelby County, and the resultant increase in COVID-19 hospitalizations, were still a cause for concern.
The conference is also sponsored by the Society of Experimental Biology and Medicine and its journal, Experimental Biology and Medicine, and is supported by industry and foundation partners. Steve Goodman, PhD, vice chancellor for Research at UTHSC, is chairing the conference planning committee and was instrumental in bringing the event to Memphis.
"Every year this international conference is on a topic of great interest to the global scientific community," Dr. Goodman said. "This year, the topic is regenerative medicine, and the creation and rapid growth of TennIRM was an important factor in bringing the IEBMC to Memphis."
Memphis is the first stateside location the global conference has chosen in its eight-year history.
Along with the new dates, a revised list of speakers was announced, which include Arnold I. Caplan, PhD, director of the Skeletal Research Center and professor of Biology at Case Western Reserve University, as the new keynote. "We have an outstanding slate of speakers highlighted by our keynote lecturer, Dr. Arnie Caplan. Dr. Caplan is the researcher who discovered mesenchymal stem cells and is a leader in the field," Dr. Goodman said.
CORNET Symposia Return this Fall
The Office of Research's CORNET symposia are returning this fall.
Based on the ideals of cross-disciplinary team science, the CORNET Awards were created to stimulate innovative, interdisciplinary, team research. CORNET Awards Symposia are held to honor award teams and provide award recipients an opportunity to present their findings and share their discoveries.
A variety of collaborations, including internal, regional, and global, comprise the most recent award teams. These awardees will be presenting their findings virtually, over the course of three symposia scheduled for October 29, November 18, and December 10. The December 10 session is earmarked for the UTHSC/University of Memphis SARS-CoV-2/COVID-19 CORNETs, awarded in August 2020. Dr. Steven Goodman, UTHSC Vice Chancellor for Research and Dr. Jasbir Dhaliwal, UofM Executive Vice President for Research and Innovation, will co-chair the December event.
We are excited about the return of this event!  Please REGISTER NOW for the October Symposium!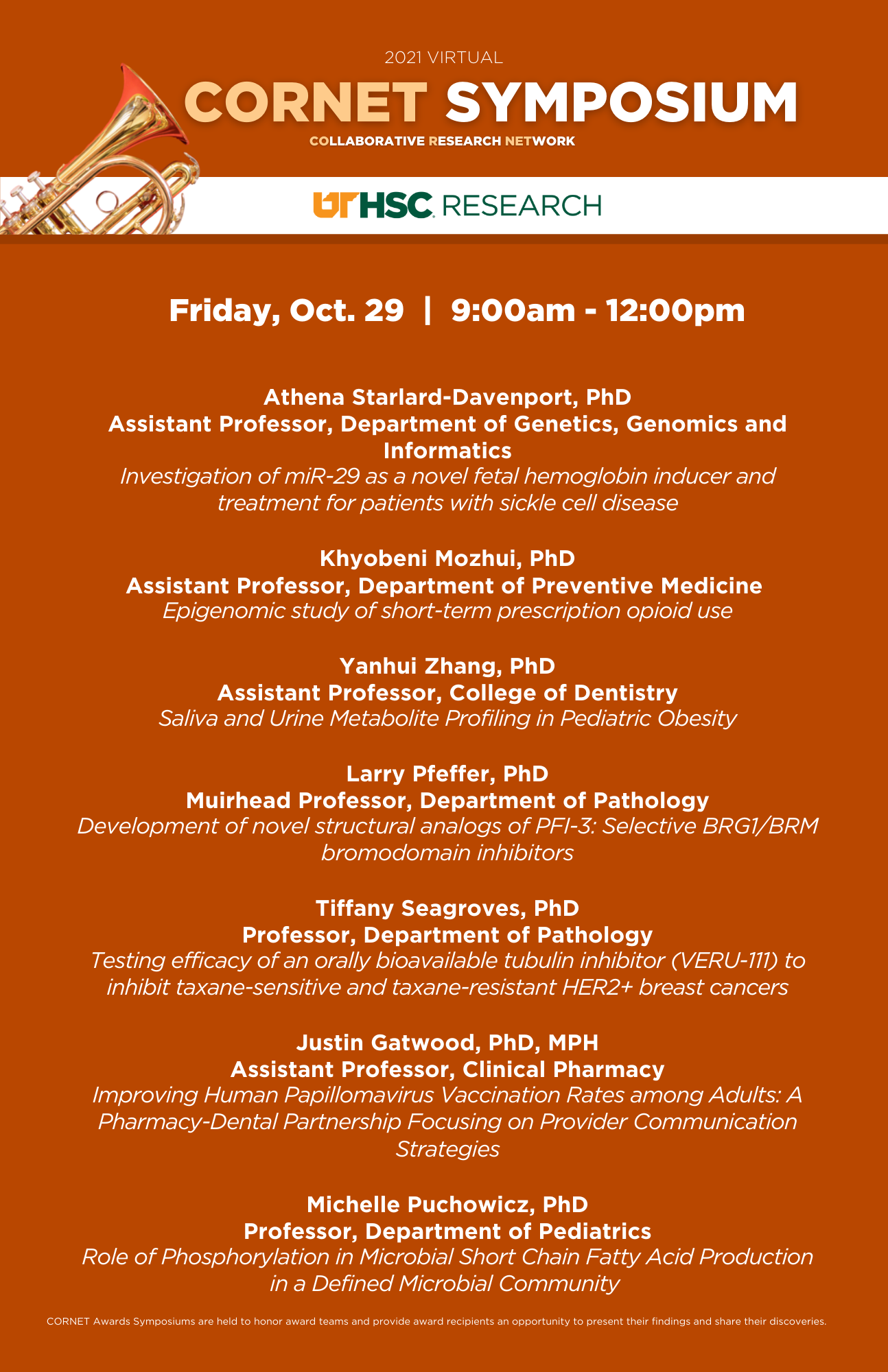 See All News Stories